Dia de los Muertos ~ Day of the Dead Celebration in Questa on Saturday, November 2, 4 – 8 pm.
La Sala and LEAP are co-hosting the fifth annual celebration of Day of the Dead. LEAP is Land, Experience and Art of Place, an artist-run organization that creates arts and educational events and opportunities reflecting the natural and cultural ecology of Questa and surrounding communities.
On November 2, enjoy music, art, altar-making and a potluck feast, plus Music by Michael Rael and Dino Archuleta, then Mariachi Questa at 6:30. Bring a dish to share, perhaps a favorite of someone being remembered; you'll find posole, prune pies, hot chocolate, pan de muerto (frito pies!) and more!
Participants can bring photos of loved ones or objects to add to a community altar. The QuestaStoriesProject will be present and available to record community members' remembrances of loved-ones, if families choose to share (QuestaStories.org).
Questa Stories now has access to a "StoryBox" kit through the Questa Library, thanks to the Manitos Project grant. The kit provides a selection of tools to '[p]air up, share stories through questions prompts, and hear the life experiences of people within your community" (Quoted from https://www.onestorycloser.org/). Tools from this kit will be available to use to share stories. 
There will be much to do and feast upon, and music to enjoy. A key aspect of the evening will be art making and sharing in a supportive and festive environment. Participants can get their face painted, make sugar skulls, paper marigolds, and other art; supplies and instructions are provided.
Dia de los Muertos is a time-honored tradition to remember loved ones. It originated in Mesoamerica as a blend of Spanish, Aztec, and ancient traditions. There are few set parameters, besides food, music, bright colors, and active remembering; this may explain why Day of the Dead has spread around the globe. Today, it is celebrated worldwide and in Questa, a community celebration has been held since 2015!
The essence of Dia de los Muertos is to honor loved ones with celebration and meaningful actions. This ritual offers a container for feelings of sorrow at the death of our beloveds. And by treating the eventuality with honesty and even humor, we recognize we are all sojourners; some are simply further ahead.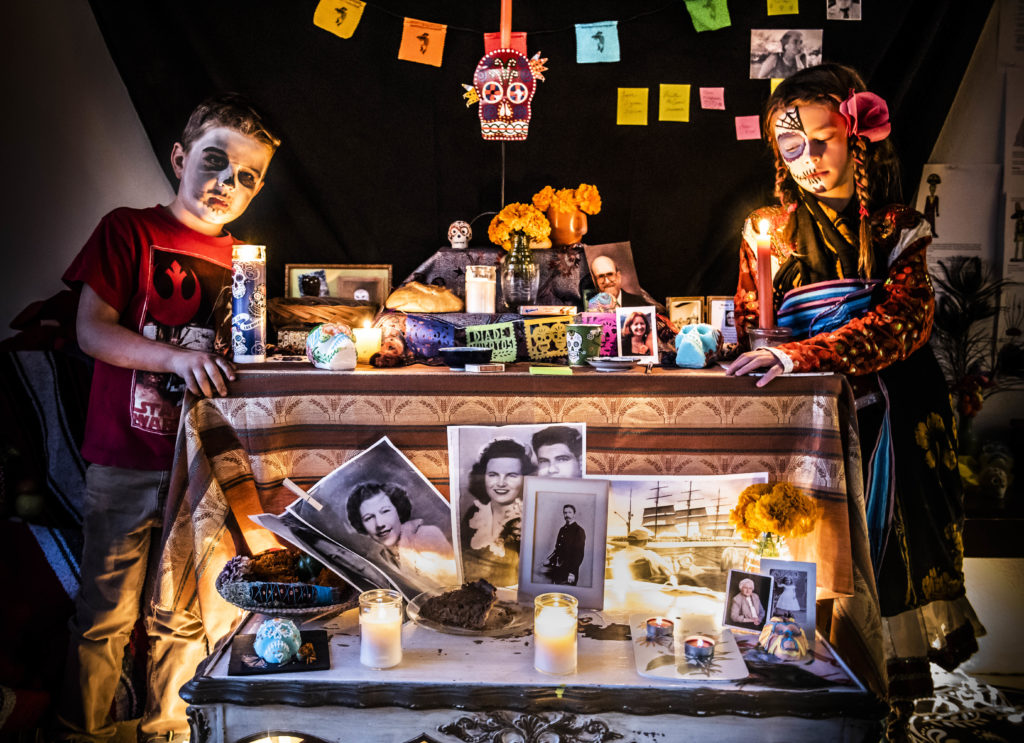 This collaborative event is coordinated by Gaea McGahee (LaSalaQuesta.com) and Claire Coté (LeapSite.org) with help from Dava McGahee (DavaCulturalLegacy.com), and many from Questa and surrounding communities.
For more information contact Gaea McGahee, (575) 224-2102, or visit LaSalaQuesta.com. Volunteers are welcome.